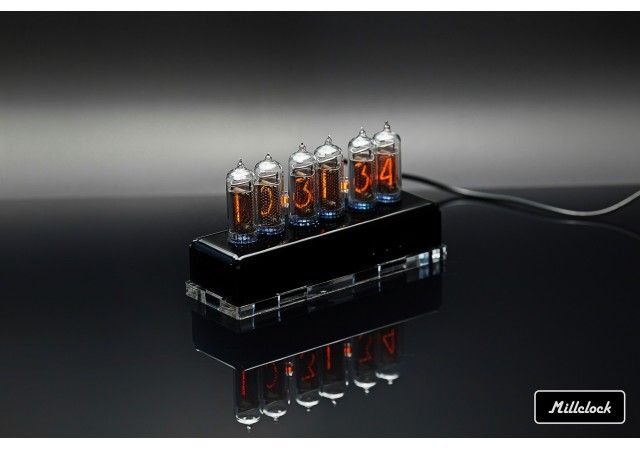  
in-14 nixie tube clock assembled acrylic enclosure adapter 6-tubes
When there is an overwhelming desire to find a vintage clock, the nixie tube model should be regarded. Your night-time will be painted with neon light showing you the exact time accurately. This very model is a valuable gift for your friend or it can become unique decoration of your own interior.
Product SKU: MLC0624
It is designed and produced in Ukraine by Millclock with guarantee of being safe and origin. The mechanism operates uninterruptedly.
Important options
There are plenty of useful features within this model, which allow you to feel comfortable about your time. First of all you can adjust the date, month and year in addition to time with hours, minutes and seconds. The 12 and 24 displays can be applied. In night mode a slot machine effect is available. You can benefit from alarm option, GPS function, and remote control in this clock. You are able to charge the clock easily due to a built-in battery socket. And if the power is interrupted, the time backup will save the situation.
Why should you buy it?
• You'll get a reliable timing mechanism.
• You'll break the monotony of the modern interior with vintage technology.
• You can be sure that a new item with no signs of wear will be delivered.
• All the components are of high quality being thorough tested by a manufacture. You will certainly like this
construction in transparent acrylic enclosure, which you can purchase at our e-shop at the most reasonable price.