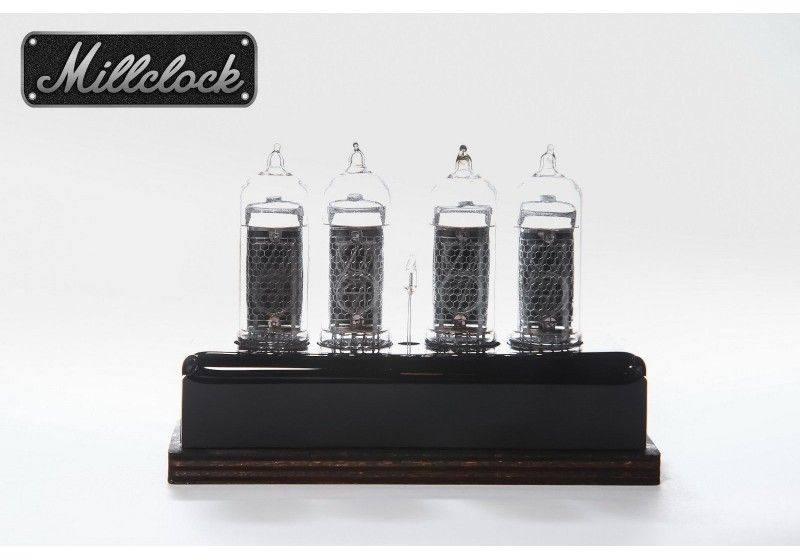  
in-14 nixie tube clock assembled acrylic enclosure adapter 4-tubes
We represent bracket clock for exclusive staff lovers and real rationality connoisseurs. 
Product SKU: MLC0319
Nixie tube technology is rather attractive in a context of today interest in loft. This skeleton of construction is laconic and beautiful in its roughness. This model consists of four tubes located on a board with size 100 x 30 mm. The compacted accessory can be a perfect gift for any occasion. It is produced in Ukraine by Millclock and proves to be reliable and safe.
What is available with this clock?
Here you cannot follow the seconds and if you do not use the clock as a timekeeper you have no need in them. Still you will be reminded about the date. All the digits blink with orange color while the shade and brightness of the backlight can be easily changed. Also you can switch off the backlight if it irritates. You can prevent cathode poising if apply a night mode effect of Slot Machine. In general on the back panel you will find the mode and set buttons which enable to choose the comfortable formats.
Strong points
• Very stylish design will add the diversity in your life.
• The reasonable price will suit any budget.
• You will get the fully assembled clock requiring the time setting only.
• You can count on return accept if anything is wrong with your order.
You will be satisfied with the quality of this clock and its design is stunning without any doubt. If you like this style, then you should choose this model among others and enjoy it. We are sure that its smooth and efficient operation won't disappoint you in due course.