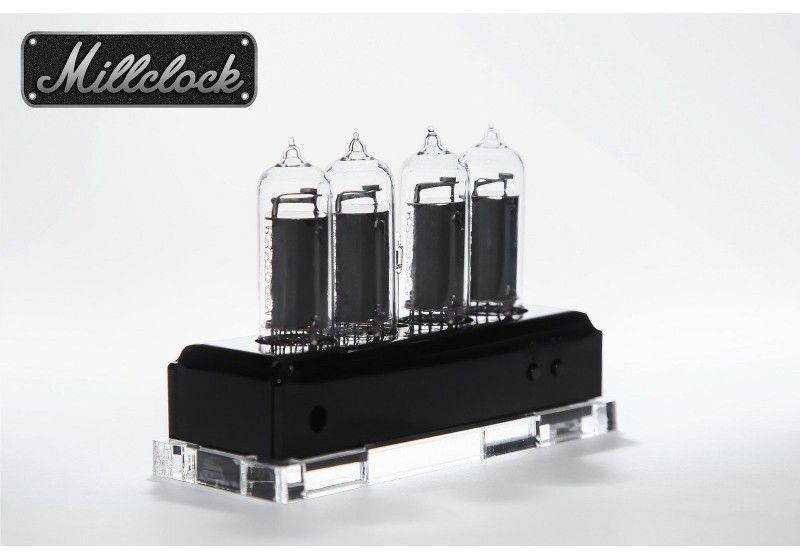  
In-14 Nixie Rohruhr montierter Acrylgehäuse Adapter 4-Röhre von Millclock
We represent bracket clock for exclusive staff lovers and real rationality connoisseurs. 
Product SKU: MLC0318
You hardly can resist temptation to buy nixie tube clocks if you like that industrial look with digits resembling the neon commercial in the streets. The distinct numbers of orange color will be seen over the distance and even at night. Thus, the decorative feature is added with the functionality. We are sure of 100% buyer satisfaction with this product because we guarantee the high quality of the components and assembling performed in Ukraine.
What is available?
The package includes the nixie tubes with an enclosure, adapter and pbs. Though, UPS is not applied. As far as there are only four tubes, you will not be able to know seconds. Do you need them? The clock indicates hours, minutes, year, month and day. There is a backlight, which can be switched off. The buttons for settings and modes you will find on back panel of enclosure. The adapter allow to plug the clock in under any circumstances and enjoy this technology being in any country in the world.
Advantages
• Unique vintage design will set the clock apart from other models.
• The affordable price includes the guarantees.
• The timing mechanism is very reliable if it is used in a proper way.
• All the components are of high quality being tested by a producer.
We'll offer you a quick delivery, various payment options and friendly support if you need it. Just place the order and wait for your purchase to be shipped. We ask you to e-mail us in order to prove the price.