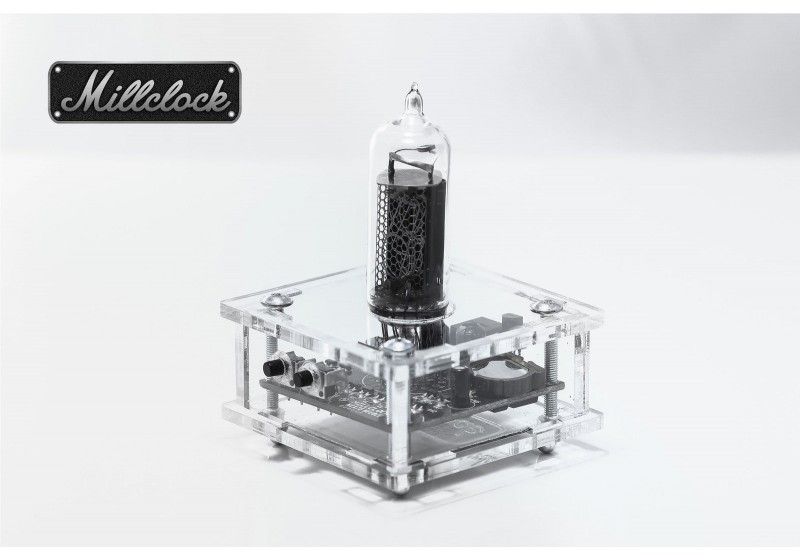  
IN-14 single digit nixie tube clock assembled with adapter
This clock's mode has high-tech and handmade design, there are LED lamps of RGB type
Product SKU: MLC0101w
Welcome to the nixie tube world! Millclock offers a series of unique products with perfect performance. This technology is a real return to the Soviet times with soundness of the construction and originality of design. The hi-tech design matches the corresponding style of interior and will be quite relevant to loft environment. Though, you can introduce a little variety in any facilities: home or office. Being made of Ukrainian New Old Stock Nixie tubes this hand-made clock consisting just of one tube is extremely reliable and safe.
Features
This small clock allows you keeping up with the times. The case is made of transparent acryl showing all the inner assembly that is an additional winning designer's trick. It is powered with 12V and can be connected to the mains with an adapter, which is offered to a buyer in accordance with the country where he lives. The clock displays time in three modes - you can prefer any of them. There are two buttons located on the enclosure, which are intended for setting time.
What will you get in your order?
• The assembled clock ready to operate.
• One adapter ready to be plugged in.
• The instruction for a user with simple descriptions of adjustment operations.
• And the relevant shipment documents.
All that you are expected to do is to place your order, pay the account and wait until the package is delivered vie airmail. We accept returns under certain conditions and are always accessible for our customers being glad to help and answer the questions.