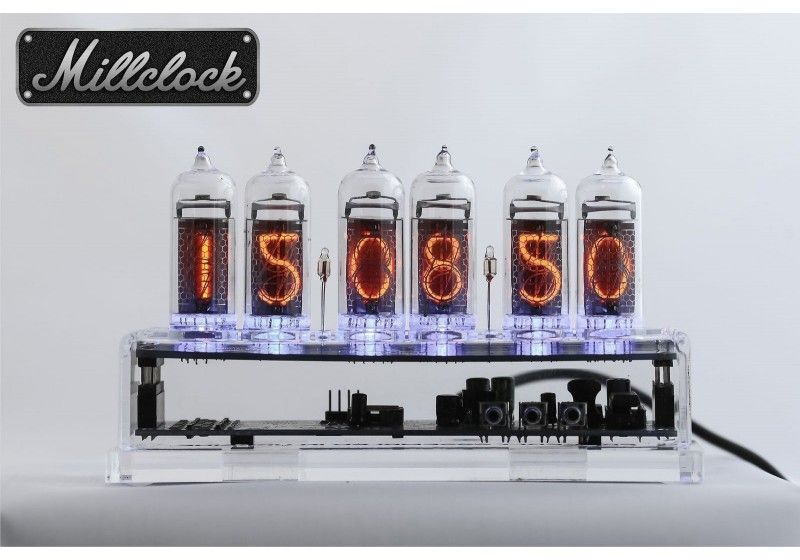  
IN-14 Nixie tube clock assembled acrylic enclosure adapter 6-tubes
Each circuitry of the model are concluded in acryl hull, there is the adapter in set. The clock has
GPS with appropriate 1,5% time accuracy. 
Product SKU: MLC0616w
Do you remember that spirit of New York City full with neon signs in 1970s. The streets are full of vintage cars, the particular sense of freedom is everywhere. Everything is different today but you can restore that mood and buy the nixie tube clock with that particular charm. This model is made by Ukrainian company Millclock and meets the strict requirements to the quality.
Options
Here you can find remote control, GPS function and alarm clock that can be adjusted to any needed time. The clock indicates year, month, date, hours, minutes and seconds providing the most detailed information about the current moment. By the way the accuracy is equal to 1,5 %. If there is a need, you can easily correct the time using a relevant button. The digits in tubes can be changed from 0 to 9 gradually or rapidly in accordance with setting. You can also adjust the digits light with RGB colors. There are also night and sleep modes just in one push.
Guarantees of a producer
• Reliable work of the clocks.
• The service life being about 5 years.
• Warranty for the electronic details for one year.
• The lowest price at the market.
• Accept of returns if there is a specified case.
You can buy this model right now, but, please, before placing the order send us an e-mail message to find out the current price. The clock will be shipped at once after the payment will be proved.
Data sheet
Time format

12 / 24 time display

Indication

Hours, minutes/ - Date, month

Power

12V/1A (adapter included, EU socket).

Board size

100 x 30 mm