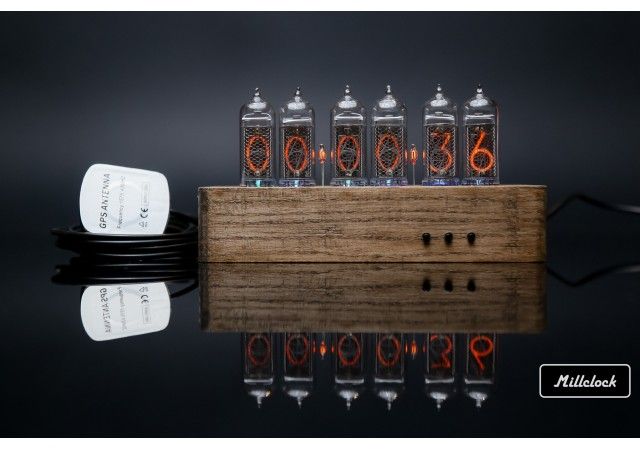  
in-14 nixie tube clock wood enclosure gps alarm and adapter 6-tubes
It makes your life full of memories connected with those retro times when neon lighting was the technological innovation.
Product SKU: MLC0626
It makes your life full of memories connected with those retro times when neon lighting was the technological innovation. The distinctive design, steady time-keeping and stylish detail of your interior – all of that can be provided by this very model. The Millclock is a Ukrainian brand characterized with secure material and high quality of construction.
Peculiarities
This clock is marketed with solid wood enclosure, which supports the tubes hovering over the bright backlight, the color of which can be picked of 99 variants. The orange numbers inside New Old Stock Nixie tubes are gradually changed by others showing the exact time with hours, minutes and seconds. If you need, you can use the option of automatic winter/summer time changing. The clock is very creative with an exotic appearance.
Performance capabilities
• It offers to choose between 12 and 24 formats.
• It continues to work for some time even if there is no power.
• The time can be adjusted and corrected easily when it is needed.
• It is possible to set alarm for any time required. Forget about digital alarm clocks! You can rely on this unique mechanism and learn more about the time.
This is a thing for collections and everyday use. You are offered to order it at our website right now and take advantages of the manufacture prices and guarantees.
We ship orders within one business day. Orders received after 3:00pm EST are shipped the following business day.
Any possible exceptions will be noted in the "Availability" section of a tube's description. You will receive email from us if there is a delay, and you will receive an email when your order ships.
International Shipping - Outside of Ukraine
International: Once we receive your order, we will email you with your shipping options and costs. At that time you can choose what shipping method you prefer or you can cancel the order if you do not wish to proceed. We do not process your credit card for your order until it is ready to ship. We will attempt to email you twice; if no response is received we will attempt to ship using the best method for order size and value. If you wish to cancel your order you must email to request cancellation.
Approximate International Air Parcel Post shipping cost for an order of four power tubes and four preamp tubes or for one nixie clock : $22 USD. We will e-mail confirmation of cost and options before shipping the order.

Shipping  time

 Europe

 10-12 days

 Germany

 14-18 days

 USA, Canada

 12-15 days

 Asia, South America

 14-20 days

 Australia, New Zeland

 20-24 days

 Africa, Central America

 24-34 days