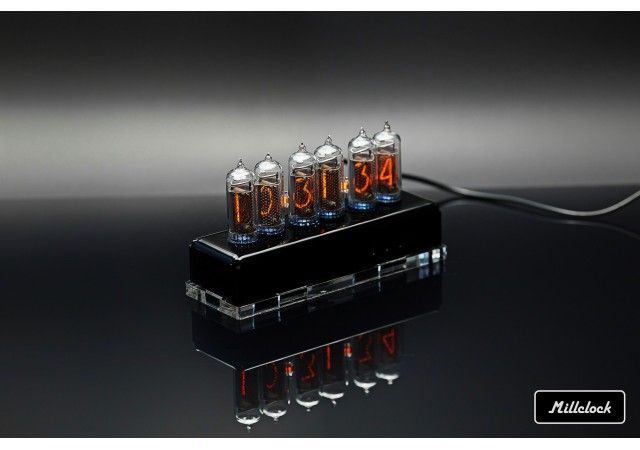  
in-14 nixie tube clock assembled black acrylic enclosure adapter 6-tubes
When there is an overwhelming desire to find a vintage clock, the nixie tube model should be regarded. Your night-time will be painted with neon light showing you the exact time accurately. This very model is a valuable gift for your friend or it can become unique decoration of your own interior.
Product SKU: MLC0624
It is designed and produced in Ukraine by Millclock with guarantee of being safe and origin. The mechanism operates uninterruptedly.
Important options
There are plenty of useful features within this model, which allow you to feel comfortable about your time. First of all you can adjust the date, month and year in addition to time with hours, minutes and seconds. The 12 and 24 displays can be applied. In night mode a slot machine effect is available. You can benefit from alarm option, GPS function, and remote control in this clock. You are able to charge the clock easily due to a built-in battery socket. And if the power is interrupted, the time backup will save the situation.
Why should you buy it?
• You'll get a reliable timing mechanism.
• You'll break the monotony of the modern interior with vintage technology.
• You can be sure that a new item with no signs of wear will be delivered.
• All the components are of high quality being thorough tested by a manufacture. You will certainly like this
construction in transparent acrylic enclosure, which you can purchase at our e-shop at the most reasonable price.
We ship orders within one business day. Orders received after 3:00pm EST are shipped the following business day.
Any possible exceptions will be noted in the "Availability" section of a tube's description. You will receive email from us if there is a delay, and you will receive an email when your order ships.
International Shipping - Outside of Ukraine
International: Once we receive your order, we will email you with your shipping options and costs. At that time you can choose what shipping method you prefer or you can cancel the order if you do not wish to proceed. We do not process your credit card for your order until it is ready to ship. We will attempt to email you twice; if no response is received we will attempt to ship using the best method for order size and value. If you wish to cancel your order you must email to request cancellation.
Approximate International Air Parcel Post shipping cost for an order of four power tubes and four preamp tubes or for one nixie clock : $22 USD. We will e-mail confirmation of cost and options before shipping the order.

Shipping  time

 Europe

 10-12 days

 Germany

 14-18 days

 USA, Canada

 12-15 days

 Asia, South America

 14-20 days

 Australia, New Zeland

 20-24 days

 Africa, Central America

 24-34 days