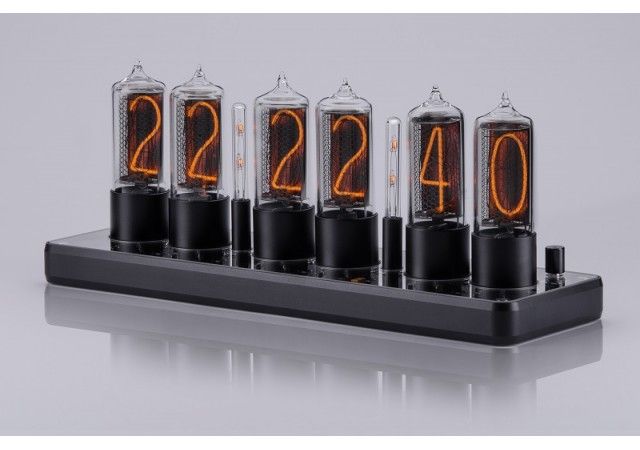  
NEW! ZIN18 Nixie Clock Black Aluminium Rounded Case
Meet Reborn ZIN18 the new super-compact Nixie tube - is shape of the history in the strong and smart modern body.
 Millclock has designed and manufactured a new variety of Nixie tubes. We intend to set up their mass production for popular use in technical projects. Nowadays, ZIN18 is the most compact and upgraded Nixie tube on the market. Now, the famous Nixie tube's shape is elongated, neat, strong, and smart.
Product SKU: 6blackrounded
The name "ZIN" is a blend of the Z class and IN class Nixie lamps. It took us profound research and hard work to transform the two classes into one. Conceptually, first we modernized a beautiful base which is used in the Z class tubes. Then, we elongated a small IN18 Nixie tube with digits measuring 44 mm in height., and mounted it in the base. We strengthened the entire piece to create the modern adaptation of the Reborn ZIN18 super-compact Nixie tube  using modern equipment. Most of the Nixie tubes that are used in technical projects are taken from the 50-year-old storages. We offer a modern Nixie tube which can be used in a wide variety of different projects, providing a modern more widely available alternative to the older original Nixie tube components which are becoming harder

Data sheet
Time format

12 / 24 time display

Indication

Hours, minutes/ - Date, month

Functions

iOS/Android Setup

Power

12V/1A (adapter included, EU socket).
We ship orders within one business day. Orders received after 3:00pm EST are shipped the following business day.
Any possible exceptions will be noted in the "Availability" section of a tube's description. You will receive email from us if there is a delay, and you will receive an email when your order ships.
International Shipping - Outside of Ukraine
International: Once we receive your order, we will email you with your shipping options and costs. At that time you can choose what shipping method you prefer or you can cancel the order if you do not wish to proceed. We do not process your credit card for your order until it is ready to ship. We will attempt to email you twice; if no response is received we will attempt to ship using the best method for order size and value. If you wish to cancel your order you must email to request cancellation.
Approximate International Air Parcel Post shipping cost for an order of four power tubes and four preamp tubes or for one nixie clock : $22 USD. We will e-mail confirmation of cost and options before shipping the order.

Shipping  time

 Europe

 10-12 days

 Germany

 14-18 days

 USA, Canada

 12-15 days

 Asia, South America

 14-20 days

 Australia, New Zeland

 20-24 days

 Africa, Central America

 24-34 days